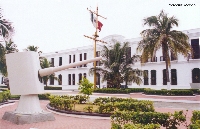 VERACRUZ
El "Museo Naval", antes Escuela Naval Militar, fué protagonista de la defensa del territorio nacional.
Ahora, el Museo, contiene una larga colección de históricas armas y artefactos desde la llegada de los españoles, hasta nuestros días.
The "Museo Naval" before Military Naval School was protagonist of numerous battles.
Now, The Museum, has a huge colection of historical weapons and items since the spanish arrival up to now.